Morning Meals at the Inn
New Orleans is all about food, and Ashtons Bed and Breakfast is certainly no exception! Don't plan on dieting here; our morning meals are – in a word – decadent. Gourmet breakfasts feature hearty creations that highlight Creole, Cajun and Southern traditions.
New Orleans Breakfast Entrees
Mouthwatering entrees include enticing New Orleans favorites, such as sweet potato French toast with pecan honey-butter, Bananas Foster waffles, or Mardi Gras eggs benedict with Cajun tasso hollandaise.
Chicory Coffee and More
Top it all off with New Orleans' own French Market chicory coffee, regular rich-roasted coffee, or tea; fresh fruit, fresh juices; and home-baked pastries.
Recipes
Bananas "Foster" Belgian Waffles
"Bananas Foster" originated in 1951 at famous Brennan's Restaurant in the French Quarter. Traditionally served as a dessert, the dish is flambéed tableside, then served over vanilla ice cream. The traditional New Orleans recipe has become a favorite breakfast, served over belgian waffles, at
Ashton's Bed and Breakfast.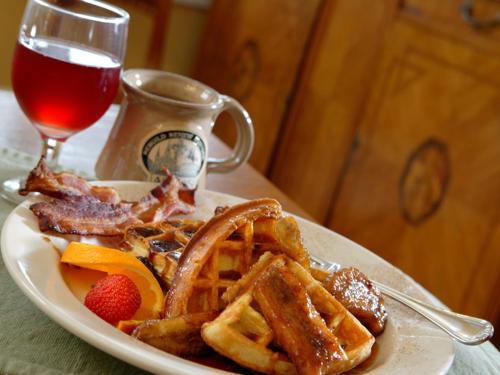 Ingredients
¼ cup (½ stick) unsalted butter
1 cup brown sugar (dark preferred)
½ teaspoon cinnamon
¼ cup banana liqueur
2 bananas*
¼ cup good rum
Instructions
Peel bananas and cut in quarters, half lengthwise, then halved
Combine butter, brown sugar, and cinnamon in a flambé pan or low-sided skillet. Place pan over medium heat and cook, stirring until the sugar dissolves
Stir in the banana liqueur, then add the bananas
When the banana sections begin to soften and brown, carefully add the rum. Once the rum gets hot and the alcohol is evaporating, tip the pan carefully to ignite the rum vapors.
Continue stirring until the flames subside.
Spoon the bananas and sauce over prepared belgian waffles and serve immediately.
* Makes 2 servings over waffles, pancakes, or french toast as breakfast. If serving as dessert, use four bananas and serve over four scoops of vanilla ice cream.